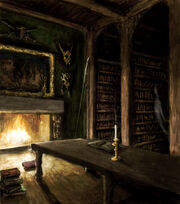 The following is a list of written works commonly found in the Crownless Lands.
Histories
Edit
Kingdoms and Empires by Various Authors (two volumes)
The Accounts of the Elf-war and the Peace That Followed
The Sealing of the Seven by Anonymous (mainly found in Yvenmar)
Myths and Stories
Edit
A Pact Made in Blood
Noit Netta a novel by Yap Uepohi
Religious Works
Edit
The Feldspar by Various Authors (contains the following works)
Hammerfall by Hecktor Stonetongue
Southern Sojurn by Hecktor Stonetongue
Firstlight Found by Hecktor Stonetongue

My Departure (in some editions, His Departure), a letter by Hecktor Stonetongue. Commonly placed between books 3 and 4 of The Feldspar​.

The Line of Velmaark by Mellún Stonetongue
Stonetongue Prophesies by Hecktor Stonetongue
Annals of the Empire by Various Authors
The Fall of Velmaark by Kerrick Cinderborn
Judgements by Unknown Author
The Dread Rebellion by Various Authors
Velmaark Restored by Various Authors
Expansions of the Imperium by Various Authors
Ends by Hecktor Stonetongue, compiled by Mellún Stonetongue.
The Final Prophesy of Hecktor Stonetongue (an apocryphal work, considered by many to be heretical)